London Workshops at Indaba Yoga 


Hip to the Core Workshop
Fri
Date:

Nov 02 2018
From:

2:00 PM

-

5:00 PM
In this workshop, we will explore how to cultivate a greater awareness of the core muscles, how to access greater range of motion, both passively and actively, in key areas of the body, and how to release tight hips and hamstrings using dynamic movements. You will learn how to maximize your practice with less effort and more effectives to create more ease on and off the mat. If you want to get stronger in your core or have tight hamstrings, weak hip flexors, or have back pain, this workshop is for you. ALL levels of practitioners are welcome. Bring a pen and notebook to class.
£40 early bird 
£45 as of October 8th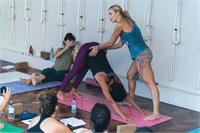 Mindful Movements Workshop
Sat
Date:

Nov 03 2018
From:

8:30 AM

-

10:45 AM
Kerri will take you through her signature 90 minute Power Vinyasa Class and give you the tools to design your own practice incorporating ways to increase mobility. Whether you want to learn for your own personal home practice or for teachers who want to teach, this workshop will show you the art of mindful mobility sequencing. This workshop is designed to help you or your students strengthen and stretch the body as well as build your endurance through dynamic sequencing. This workshop will include practice and Q&A. All levels are welcome and will feel comfortable in this workshop.
£35 early bird 
£40 from 8th October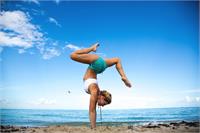 Anyone Can Handstand Workshop
Sat
Date:

Nov 03 2018
From:

1:30 PM

-

4:30 PM
In this workshop Kerri Verna invites us to explore and approach the process to learning handstands in a playful manner. We will be focusing on core and arm strength in a fun and dynamic way. We will be on our hands balancing learning to be a kid again. Kerri's handstand drills will inspire you and her tips for success will change the way you may be approaching your handstand practice. This class is taught for all levels of practitioners. Bring a pen and notebook to class.
£40 early bird
£45 from October 8th